CASE STUDY
License Management
A bespoke License Management system enabled this leading SaaS company to outpace its competition through efficiency.
Which edition of your software is a customer on? Which features are the most-used of your largest accounts? Can your operations team easily break a team off from a license in order to bill a different department separately?

These are all questions that any growing software company needs to be able to answer quickly in order to make product, marketing, sales, and operational decisions. And without automated processes in place to ensure data is accurate, managing license data can quickly bring a growing software company to a grinding halt.
License Management at Cirrus Insight
Before co-founding Cambium, Ryan Huff co-founded Cirrus Insight and architected a License Management system that allowed the company to manage its rapid growth. With only the two co-founders initially managing operations, managing license information needed to be as simple and automated as possible. There were two initial processes on which to focus:
Account Management: we wanted to allow individual users to sign up for Cirrus Insight while also making it easy to sell to large teams of users.
User Provisioning: provisioning user accounts as quickly as possible was essential to ensure a smooth onboarding user experience.
Account Management
Before launch, Cirrus Insight ran a beta trial where over 1, 000 users had signed up and used the service before its official launch. Some of those users were part of teams, and others were solo users. Cirrus needed to group users according to their CRM organization while supporting individual users signing up quickly.
This structure allowed Cirrus to set up licenses for an entire organization, different departments within that organization, or individual users depending on the product edition, contract term, and payer.
User Provisioning
To avoid getting bogged down in manually assigning newly registered users to the correct organization, we looked for a way to determine this automatically. We discovered that when a user registered, we could use the unique Salesforce organization that the user belonged to – allowing us to automatically group users from the same organization in the internal CRM.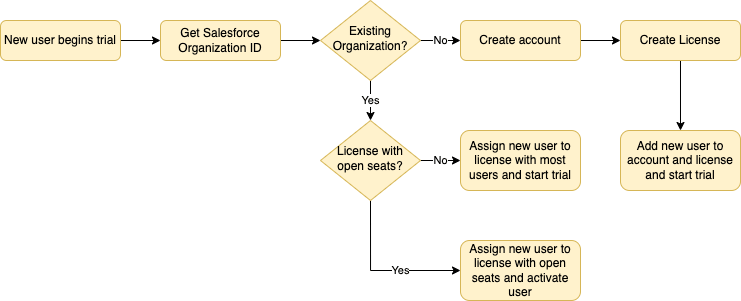 This updated process made it possible to instantly provision new users and either (a) start their trial or (b) assign them to an existing license with available seats. No intervention by the ops team was required unless by exception.
License Management Impact
In addition to automating this complex process, the most significant impact of this License Management system was the integration between functional teams. By integrating into the company's CRM, the License Management system was an extension of the system-of-record for all customer data. All information, from application usage data to order history, was available to employees in every department, helping them more effectively resolve customer issues and identify patterns in application usage.